EODROMAEUS MURPHI

Le coureur de l'aube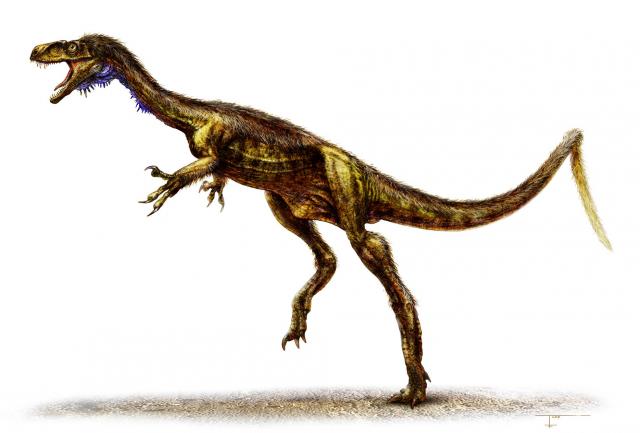 Classification :

Phylum: Chordata
Classe : Reptilia
Super ordre: Dinosauria
Ordre: Saurischia
Sous ordre : Theropoda
Genre : †Eodromaeus (Martinez et al., 2011)
Espèce : †E. murphi (Martinez et al., 2011)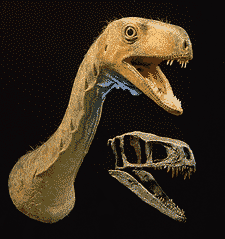 Ethymologie :

Eos : Aube, aurore (Grec)
Dromaeus : coureur (Grec)
Murphi : en l'honneur de Jim Murphy, étudiant découvreur des 1ers ossements.

Caractéristiques :

Age : 230 million d'années.

Régime : carnivore : petits dinosaures et jeunes reptiliens.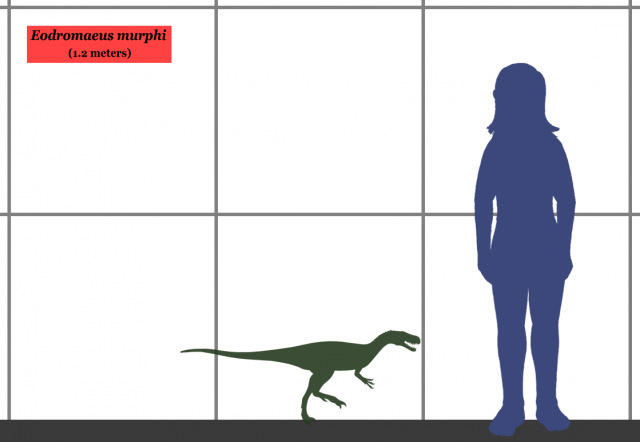 Hauteur : 45 centimetres.

Taille de l'adulte : 1.20 m.

Poids de l'adulte : 5 kg.

Partie du squelette preservée : 90%.


Site de la découverte :




Valle de la Luna
Formation Ischigualasto
Parc Provincial d'Ischigualasto
Près de la frontière Nord-Ouest de la Province de San Juan
Argentina





Date de la découverte :

Quelques os isolés ont été découverts en 1988.
Les 2 meilleurs squelettes ont été déterrés en 1996, opération suivie de plusieurs années
de préparations, dégagements, moulages et études.

Quelques éléments importants :

- dents jugales de la machoire supérieure en forme de sabres
- membres antérieurs munis de mains à 5 doigts
- 2 squelettes presque intacts trouvés côte à côte
- de même taille qu'Eoraptor
- lointain cousin de T-rex
- le plus complet des premiers théropodes.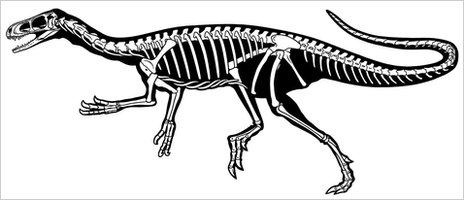 Lieu d'exposition des fossiles :

Instituto y Museo de Ciencias Naturales
Universidad Nacional de San Juan
Argentina.


Publication scientifique :

Martinez et al.
A Basal Dinosaur from the Dawn of the Dinosaur Era in Southwestern Pangaea.
Science (14 janvier 2011).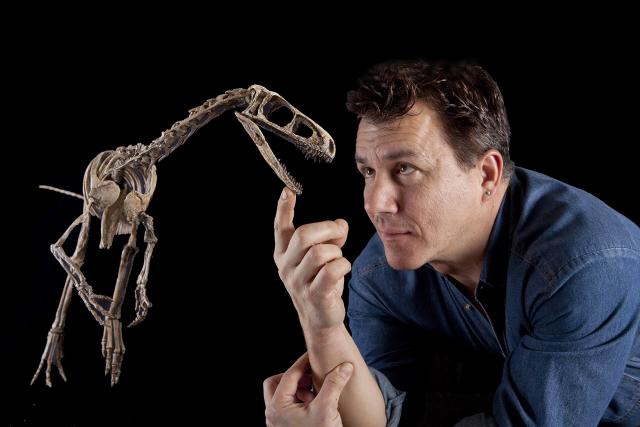 Ricardo N. Martinez : Instituto y Museo de Ciencias Naturales,
Universidad Nacional de San Juan, San Juan 5400, Argentina.

Paul C. Sereno : Department of Organismal Biology and Anatomy and Committee
of Evolutionary Biology, University of Chicago, Chicago, IL 60637, USA.

Oscar A. Alcober : Instituto y Museo de Ciencias Naturales,
Universidad Nacional de San Juan, San Juan 5400, Argentina.

Carina E. Colombi : Consejo Nacional de Investigaciones Científicas y Técnicas,
Buenos Aires, Argentina.

Paul R. Renne : Berkeley Geochronology Center, 2455 Ridge Road, Berkeley, CA 94709, USA.
Department of Earth and Planetary Science, University of California, Berkeley, CA 94720, USA.

Isabel P. Montañez : Department of Geology, University of California, Davis, CA 95616, USA.

Brian S. Currie : Department of Geology, Miami University, Oxford, OH 45056, USA.


Quelques infos :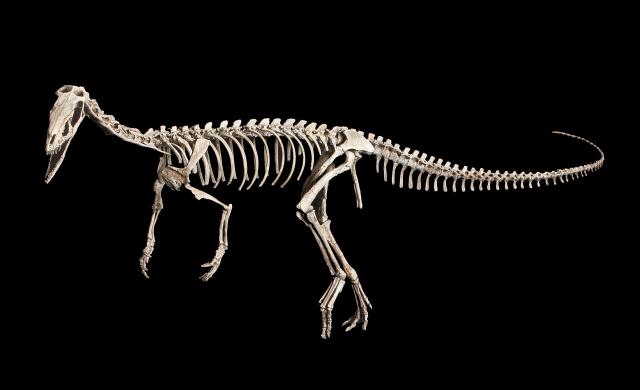 Un spécimen fossilisé de l'une des premières espèces de dinosaures à avoir foulé le sol terrestre,
il y a 230 millions d'années, a été mis au jour dans la formation d'Ischigualasto,
dans le nord-est de l'Argentine, région qui a fourni d'autres fossiles importants de dinosaures.

Ce dinosaure vivait lorsque les continents n'en formaient qu'un seul : la Pangée.
À cette époque de l'évolution terrestre, l'Argentine était collée à l'Afrique et à l'Antarctique.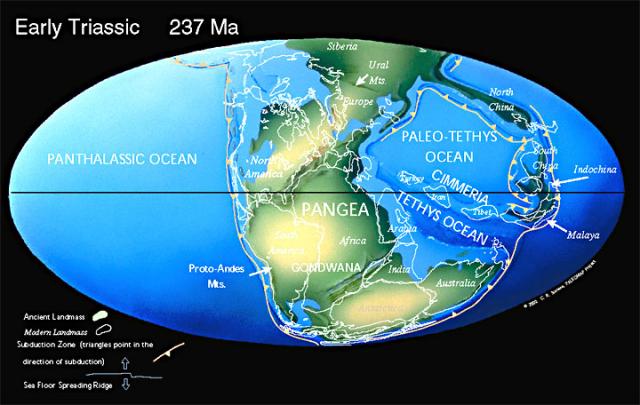 Il était apparenté aux dinosaures saurischiens qui vivaient en Amérique du Nord
il y a environ 150 millions d'années.

L'Eodromaeus était un prédateur coureur sur 2 pattes qui pouvait atteindre 1,2 mètre de long.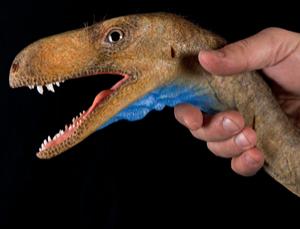 Ce petit animal de 4 à 6 kg de la fin du Trias ressemble à son contemporain l'Eoraptor,
mais présente quand même des différences significatives
qui renseignent sur les débuts de l'évolution des dinosaures.

Selon le Pr Ricardo Martinez de l'Universidad Nacional de San Juan en Argentine
et ses collègues américains, l'Eodramaeus est un ancêtre précoce de la lignée des théropodes
qui inclut les dinosaures prédateurs comme le Tyrannosaurus rex.

L'Eodramaeus avait un crâne qui présentait plusieurs caractères des théropodes,
comme une ouverture près de l'extrémité de son museau appelée fenêtre promaxillaire
ainsi que d'autres ressemblances dans le tronc, le pelvis et les membres.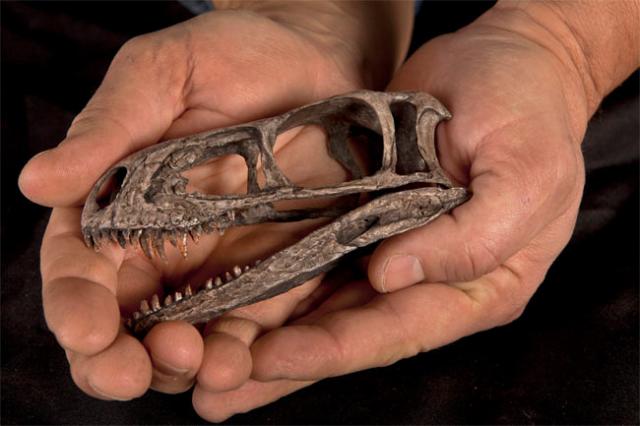 Les deux spécimens d'Eodromaeus sont suffisamment complets pour nous donner
un nombre substantiel d'informations sur le début de l'évolution des dinosaures.

Les paléontologues ont analysé les marques de diversité parmi les dinosaures et d'autres herbivores.
Ils ont découvert que les dinosaures étaient plus variés et communs au début du Trias
que ce que l'on pensait pour cette région.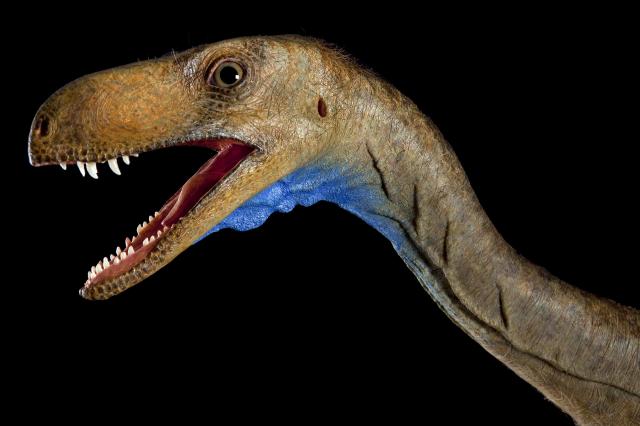 L'analyse des ossements montre que les dinosaures n'ont pas éliminé les autres espèces de reptiles
mais les ont progressivement remplacées, ces derniers disparaissant pour d'autres raisons.
En outre, les premiers dinosaures ne semblent pas s'être beaucoup diversifiés
quand les autres herbivores ont disparu, ce qui laisse penser que leur ascension n'a pas résulté
du remplacement immédiat des niches abandonnées.

Les paléontologues ont aussi expliqué que ces fossiles révélaient que l'Eoraptor,
longtemps considéré comme un ancêtre du tyrannosaure, était en fait un ancêtre
du gigantesque Apatosaurus, un herbivore de 30 tonnes et 21 mètres de long.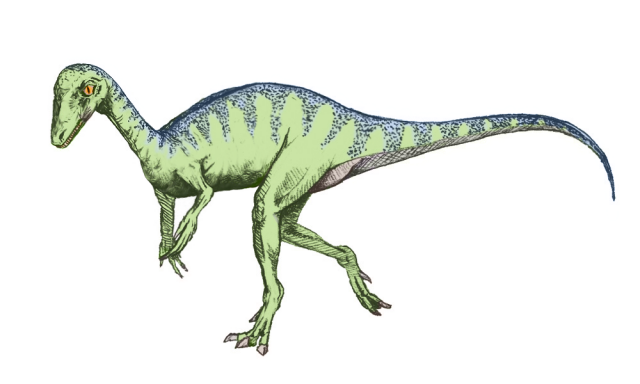 Reconstitution d'Eoraptor

Les paléontologues ayant examiné les résultats de cette découverte sont tombés d'accord
pour conclure qu'il y a 230 millions d'années les trois grandes lignées de dinosaures
-ornithischiens, théropodes et sauropodomorphes- avaient déjà développé
leurs caractéristiques respectives : carnassiers, herbivores, bipèdes ou quadrupèdes.

Cependant, ils ne représentaient alors que 11% des vertébrés:
il leur a fallu encore 30 millions d'années pour dominer entièrement le globe.


Images du pdf :

Figure 1 :
Crâne, carpe et mains des dinosaures types Eoraptor lunensis et Eodromaeus murphi.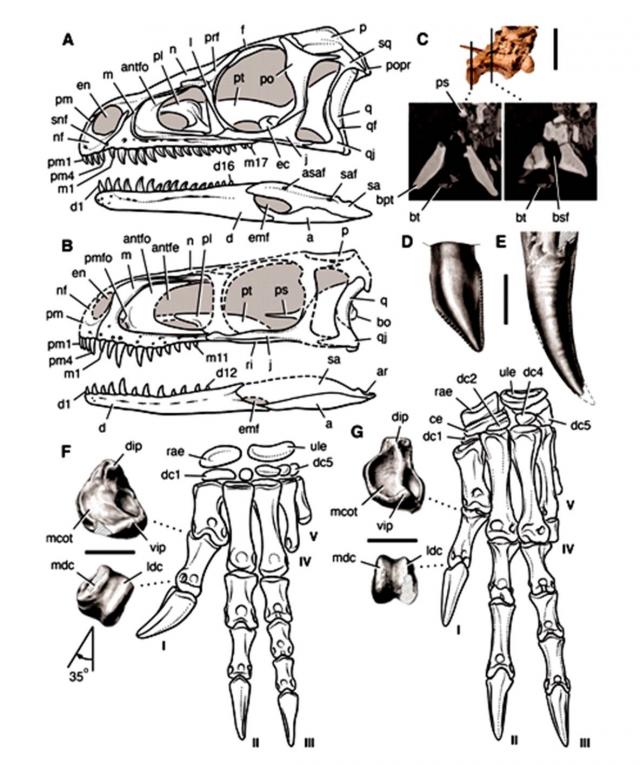 Fig. 1
Skull, carpus, and manus of the basal dinosaurs Eoraptor lunensis and Eodromaeus murphi. Skull reconstruction in lateral view of (A) E. lunensis (based on PVSJ 512) and (B) E. murphi (based on PVSJ 560 to 562). (C) Braincase of E. murphi (PVSJ 562) in ventrolateral view (reversed) and in two computed-tomographic (CT) cross sections (at vertical lines). Anterior left maxillary teeth are shown at the same scale in (D) E. lunensis [PVSJ 512, drawing of right maxillary tooth 2 in lateral view (reversed)] and (E) E. murphi [PVSJ 561, cast of left maxillary tooth 3 in medial view (reversed)]. Reconstruction of the left carpus and manus in dorsal view with enlarged views of the proximal and distal ends of phalanx 1 of digit I in (F) E. lunensis (based on PVSJ 512) and (G) E. murphi (based on PVSJ 560 and 562). The distal condyles in E. lunensis show 35° clockwise rotation with the proximal dorsal extensor process positioned dorsally. Abbreviations: I to V, manual digits I to V; a, angular; antfe, antorbital fenestra; antfo, antorbital fossa; ar, articular; asaf, anterior surangular foramen; bo, basioccipital; bpt, basipterygoid process; bsf, basisphenoid fossa; bt, basal tubera; ce, centrale; d, dentary; d1, d12, and d16, dentary teeth 1, 12, and 16; dc1 to dc5, distal carpals 1 to 5; dip, dorsal intercondylar process; ec, ectopterygoid; emf, external mandibular fenestra; en, external naris; f, frontal; j, jugal; l, lacrimal; ldc, lateral distal condyle; m, maxilla; m1, m11, and m17, maxillary teeth 1, 11, and 17; mcot, medial cotylus; mdc, medial distal condyle; n, nasal; nf, narial fossa; p, parietal; pl, palatine; pm, premaxilla; pm1 and pm4, premaxillary teeth 1 and 4; pmfo, promaxillary fossa; po, postorbital; popr, paroccipital process; prf, prefrontal; ps, parasphenoid; pt, pterygoid; q, quadrate; qf, quadrate foramen; qj, quadratojugal; rae, radiale; ri, ridge; sa, surangular; saf, surangular foramen; snf, subnarial foramen; sq, squamosal; ule, ulnare; vip, ventral intercondylar process. Dashed lines indicate a missing margin; hatching indicates a broken surface. Scale bars, 2 cm in (C) (for braincase); 3 mm in (D) and (E); 5 mm in (F) and (G) (enlarged views).


Figure 2 :
Caractéristiques du squelette postcranien du théropode du Triassique Inférieur
Eodromeaus murphi.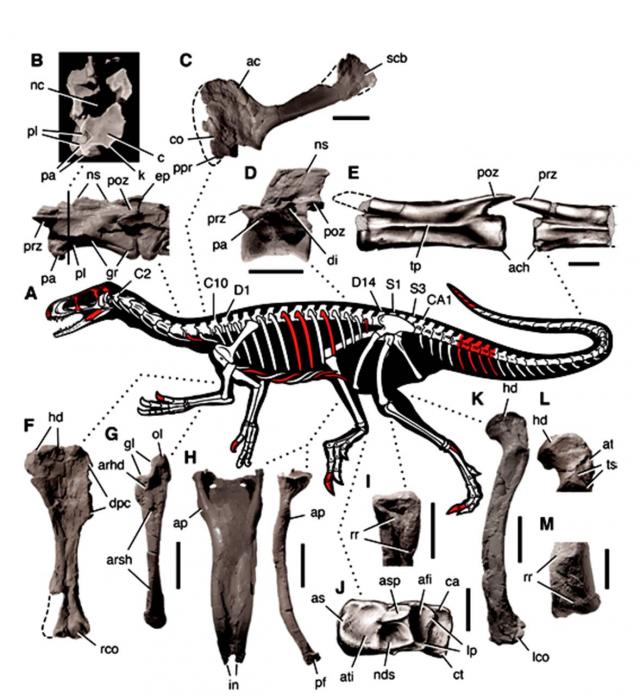 Fig. 2
Postcranial features of the Late Triassic basal theropod Eodromaeus murphi. Skeletal silhouette based on PVSJ 534, 560, and 562; postcranial bones are from PVSJ 562, except where indicated; bone casts and pencil drawings were used to eliminate color distraction and reversed as needed to left lateral view. (A) Skeletal silhouette showing preserved bones (missing portions in red). (B) Posterior cervical vertebrae (C7 and C8 anterior part) in lateral view (reversed) with enlarged cross-sectional view across the pleurocoel from a CT scan (at vertical line). (C) Scapulocoracoid in lateral view. (D) Posterior dorsal vertebra (~D11) in lateral view. (E) Distal caudal vertebrae (CA27 and CA28) in lateral view (PVSJ 560). (F) Humerus in anterior view. (G) Ulna in lateral view. (H) Pubes in anterior and lateral (reversed) views. (I) Proximal fibula in medial view. (J) Astragalus and calcaneum (right) in dorsal view (PVSJ 534). (K to M) Femur in lateral view, proximal end in lateral view, and distal end in anterior view, respectively. Abbreviations: ac, acromion; ach, articular surface for the chevron; afi, articular surface for the fibula; ap, ambiens process; arhd, articular surface for the radial head; arsh, articular surface for the radial shaft; as, astragalus; asp, ascending process; at, anterior trochanter; ati, articular surface for the tibia; c, centrum; C2 and C10, cervical vertebrae 2 and 10; ca, calcaneum; CA1, caudal vertebra 1; co, coracoid; ct, calcaneal tuber; D1 and D14, dorsal vertebrae 1 and 14; di, diapophysis; dpc, deltopectoral crest; ep, epipophysis; gl, glenoid; gr, goove; hd, head; in, interpubic notch; k, keel; lco, lateral condyle; lp, lateral process; nc, neural canal; nds, nonarticular dorsal surface; ns, neural spine; ol, olecranon; pa, parapophysis; pf, pubic foot; pl, pleuroceol; poz, postzygapophysis; ppr, posterior process; prz, prezygapophysis; rco, radial condyle; rr, raised rugosity for attachment; S1 and S3, sacral vertebrae 1 and 3; scb, scapular blade; tp, transverse process; ts, trochanteric shelf. Dashed lines indicate a missing margin; hatching indicates a broken surface. Scale bars, 2 cm in (B) and (D); 2 cm in (C); 5 mm in (E); 2 cm in (F) and (G); 3 cm in (H); 2 cm in (I); 1 cm in (J); 3 cm in (K); 2 cm in (L) and (M).


Figure 3 :
Correspondances phylogénétiques entre dinosaures fondamentaux.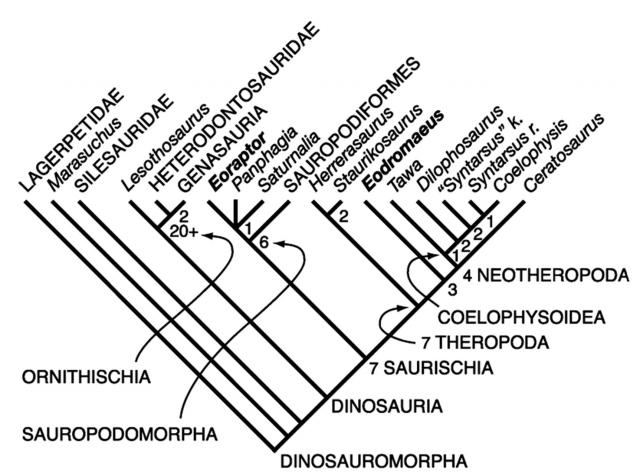 Fig. 3
Phylogenetic relationships among basal dinosaurs. Consensus cladogram summarizing three minimum-length trees based on maximum-parsimony analysis of 139 characters in successive outgroups (Lagerpetidae, Marasuchus, Silesauridae) and 16 basal dinosaur taxa (246 steps; consistency index = 0.618, retention index = 0.800). Outgroup taxa were constrained as shown; numbers at nodes indicate decay index. Suprageneric terminal taxa are scored on the basis of two or more included species. Suprageneric taxa that label the cladogram are positioned on the basis of phylogenetic definitions (8).


Figure 4 :
Profil stratigraphique calibré de la Formation Ischigualasto (nord-ouest de l'Argentine)
montrant la diversité et l'abondance des tétrapodes.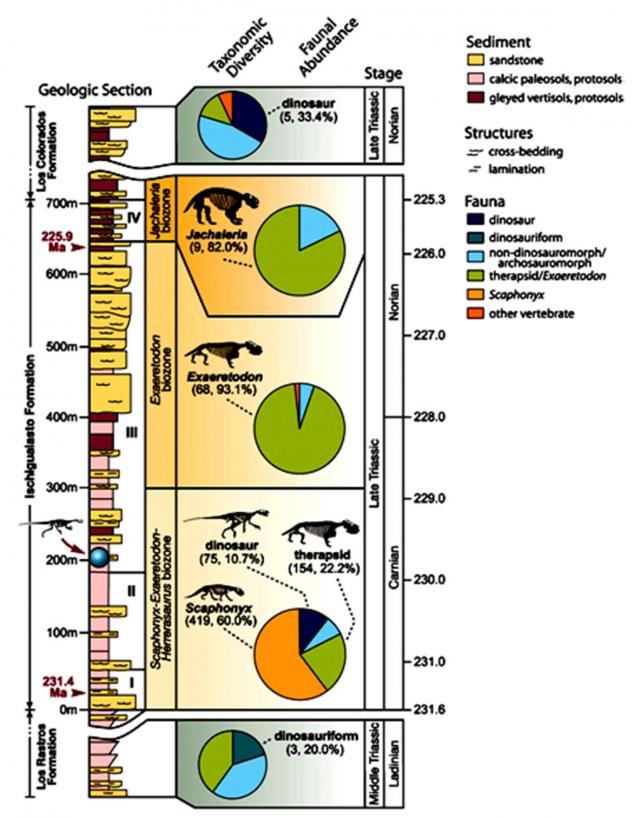 Fig. 4
Calibrated stratigraphic profile across the Ischigualasto Formation (northwest Argentina) showing tetrapod diversity and abundance. (Left) The chart shows a simplified stratigraphic section divided into four formational members (Roman numerals I to IV) as well as the stratigraphic positions of the holotype of Eodromaeus murphi and a bracketing pair of radiometric dates using recently revised radioisotopic decay constants (30). (Middle) Three biozones, three large pie charts summarizing faunal abundance for each biozone, and two smaller pie charts pie showing taxonomic diversity before (Los Chañares Fm.) and after (Los Colorados Fm.) the Ischigualasto Formation. (Right) A current geologic time scale (31), which assumes an average rate of sedimentation between radioisotopically dated horizons.



Vidéos :










Liens :

Images : Google images

pdf chez Mesozoico (faut s'inscrire pour voir) : http://www.mesozoico.com.ar/Forum/

http://www.projectexploration.org/blog/?p=2451

http://www.projectexploration.org/webcast11311/introducing-eodromaeus.pdf

http://en.wikipedia.org/wiki/Eodromaeus_murphi

http://www.radio-canada.ca/nouvelles/science/2011/01/13/001-paleontologie-.…

http://chinleana.blogspot.com/2011/01/eoraptor-is-sauropodomorph-and-new.ht…

http://www.livescience.com/animals/oldest-dinosaur-trex-relative-110113.htm…

http://www.livescience.com/php/multimedia/imagedisplay/img_display.php?s=an…

http://www.newscientist.com/article/dn19970-new-dinosaur-adds-to-the-myster…

http://www.bbc.co.uk/news/science-environment-12175263

http://www.sciencemag.org/content/331/6014/206.figures-only

__________